"This is our 12th year as a sponsor for HOMEARAMA® and we always enjoy being part of an event where people get excited to come out and be inspired by beautiful homes," says JP Flooring sales manager Ben Lanich.
Lanich hopes that the event will lead other homeowners back to JP Flooring to visit their showroom in West Chester. "Not everyone has the budget to build million-dollar homes, but we hope people are inspired to bring the ideas they see at the show into their own homes and then they come and see us."
With an incredible 20,000 square-foot showroom located in West Chester, Cincinnati's JP Flooring can literally "roll out the red carpet" when you go to see them. Their vast showroom provides customers with the opportunity to look, feel, and test a wide variety of carpet, vinyl, hardwood, ceramic tile, custom area rugs and more.
Featured in the July 2020 edition of Floor Focus magazine, JP Flooring's showroom is compared to a "high end boutique" where the shopping experience is de-stressed for the buyer. According to the article, the new showroom is clean and un-cluttered, offerings are carefully curated, and samples of selected products are offered in large formats so shoppers "can get a real feel for how they will look installed."
The Floor Focus feature is titled "Showroom Standout" and quotes JP Flooring president Phil Shrimper who explains that one of the main considerations in creating the new showroom was to "create an environment where people want to come in and shop."

Selection and Expertise
Beyond having a wonderland of flooring samples for you to experience, JP Flooring houses a depth of knowledge and experience in the flooring industry, employing many of the original employees from their start as a small carpet installer over 30 years ago. JP Flooring now serves the Cincinnati area as one of the region's largest flooring companies.
How has JP flooring grown so successfully for so long in a competitive industry? Their secret to success is growing "one client at a time" by offering top-notch customer service. JP Flooring offers quality products, expert installation, and competitive prices, but what sets them apart from the rest is tailoring each installation to the needs of the client and then providing continued support long after the products are installed.
Online and In Person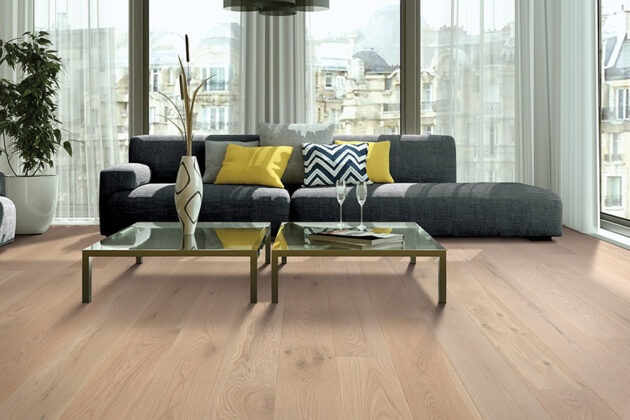 JP Flooring offers a wide range of flooring services for homebuilders, homeowners, and commercial builders. Their knowledgeable and experienced staff offers design consultation and free in-home measurement to make sure that no detail is overlooked and each project is completed to the highest standards of customer satisfaction.
Prefer to shop online in the comfort of your home? Not a problem. In addition to an incredible showroom in West Chester, JP Flooring's website offers pictures and specifications for products they carry, including everything from carpet, tile, hardwood, glass tile, area rugs, and more.
JP Flooring makes it easy to browse for ideas for your next home renovation project or new home build with photo galleries of inspiration available on their website. It couldn't be more convenient to get started and if you have questions along the way, the pop-up chat feature gives you instant access to expert help.
Through many years of service to homeowners, JP Flooring has mastered the art of customer service to make your next flooring project a high-quality experience from start to finish. Visit their website at JPFlooring.com for more information or to request a free flooring estimate.